I hope you like the different stamp sets that i have used just to show you how versatile #ctmh stamp sets can be and how you can incorporate many of them in one project.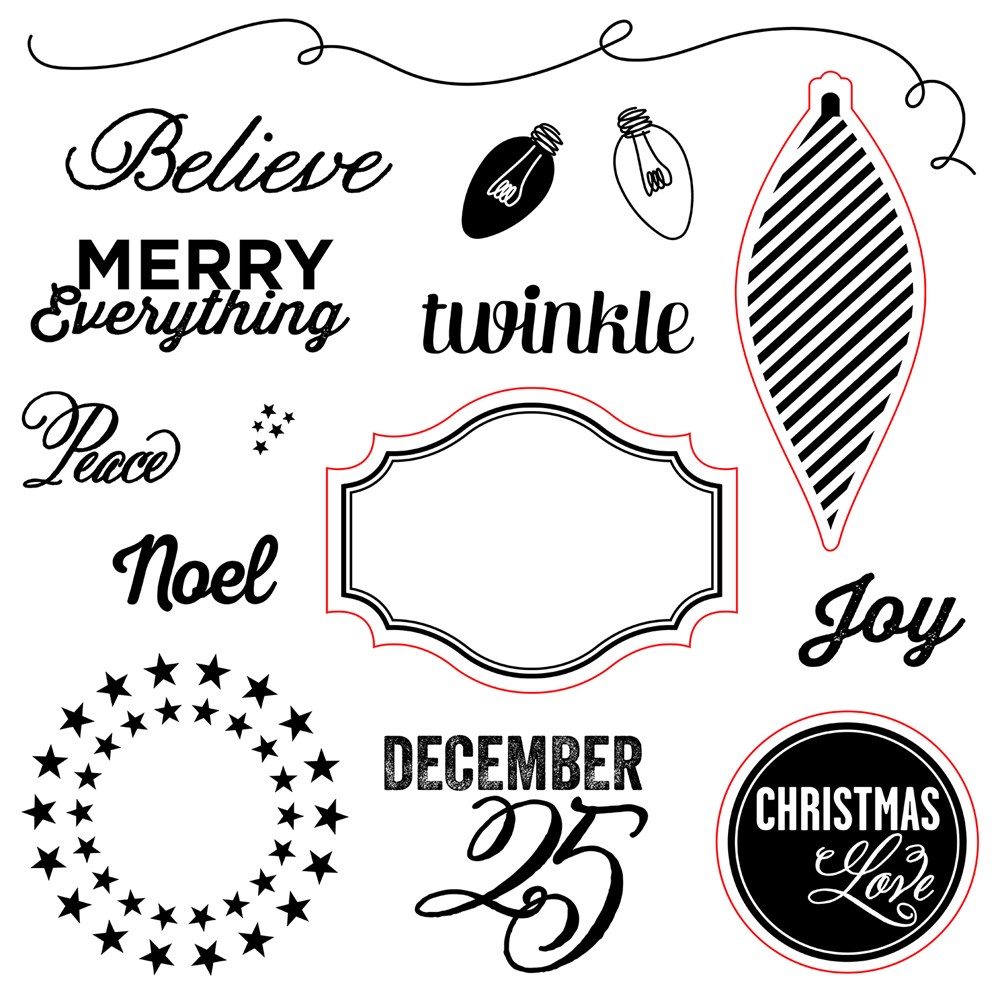 The minute I saw this stamp set, i new exactly what i was going to make. I made this page for our last christmas, Highlighting my youngest and my very first Christmas with a grandchild. I was able to cut out 3 of the Bauble using the cricut artiste cartridge @ 2 3/4" using colonial white cardstock and them stamp and wet emboss it using cranberry ink. The other 2 baulbes i covered with one of the overlays for the bauble. Using the shift key on the cricut machine it gives me an overlay shape for it. So perfect and cute. The december 25 stamp was also stamped on a die cut from the cricut artiste cartridge on Colonial white cut out at 1 3/4"and then to stay with the same page and colour theme i cut out another in Cranberry to mat the label. The cranberry label was cut at 2".
The rope light was first stamped to the right of the page corner using the stamp in the correct position and then i reinked it and turned my stamp upside down so that i could continue on the rope light to the left hand side of the page. A simple but effective technique.
The christmas love circle was again cut out on the cricut artiste @ 1 1/2"and then again matted with a cranberry circle cut @ 1 3/4". Now the clever thing was that when i was looking for my shapes on the artiste i actually came across a pointed ended circle and realised very quickly that it would match the star circle stamp so even though this stamp doesnt have a cricut matched shape this one does the job quite effectively. So i cut it out at 3" wet embossed the star circle stamp and then popped the christmas love stamp on top to give the page some dimension.
The remainder of the Layout comes from the Whitepines Scrapbooking Workshop On The Go kit which made a perfect backdrop for this stamp set and it just blended beautifully. Checkout below the items used to make this page.
or from October 1st - 31st you can purchase it for only $7.50 with EVERY $75.00 you spend.
How good is it to have a cricut cartridge to cut out the same shape as your stamp and coordinating with them, gee i love Close To My Heart. Both SOTM Twinkle and White Pines Workshop on the Go stamp sets co ordinate with the Cricut Artiste cartridge from Close To My Heart. To save time on fussy cutting i was able to cut out the shapes using my cartridge and my machine and was able to stamp on my die cuts straight away and save time.
Collection includes: 1 – Cartridge (700 Images: Themed Projects, Cards, Shapes, Gift Items, and Font) 3 – My Acrylix® D-size Stamp Sets 1 – Basics Cardstock Combo Pack
PRODUCT DESCRIPTION Cutting versatile, foundational shapes is a breeze with the Art Philosophy Collection. The basic brackets, frames, flowers, and font included are perfect for any project, any time of the year. Use your cuts from this cartridge as embellishments on cards and layouts to make your artwork shine. And don't forget to use the coordinating stamps for more creative fun!
Collection includes: 1 – Cartridge (700 Images: Basic Shapes, Gift Items, and Font) 3 – My Acrylix® D-size Stamp Sets 1 – Enchantment Cardstock Combo Pack
PRODUCT DESCRIPTION Workshops on the Go® White Pines Scrapbooking Kit Contents:
1 – My Reflections™ White Pines Paper Packet (X7200B)
1 – My Acrylix® White Pines Workshop Stamp Set (D-size)
4 – Cardstock Sheets (2 Colonial White, 1 Chocolate, 1 Glacier)
1 – White Pines Assortment (Z3077)
1 – Red Enamel Gems (Z3090)
1 – Instructional Brochure Featured Colors: Chocolate, Cranberry, Fern, Colonial White
Use the materials and instructions in this kit to create two beautiful 2-page layouts. Stamp images outlined in red coordinate with the Cricut® Artistry Collection (Z3167).
Hope you have enjoyed stopping by and checking out my creations for this months . Remember to leave a comment to let me know you stop by or to ask me any questions you may have.